President Barack Obama, the first Black President of the United States of America, speaks to thousands on Saturday, March 7, 2015 beside the Edmond Pettus Bridge in Selma, Alabama to commemorate the 50th anniversary of the 'Bloody Sunday' voting rights march on the now historic bridge that occurred on March 7, 1965. Obama's 40-minute speech covered a broad agenda on Civil Rights, including voting rights, and the racial unrest around the country of police killings of Black men and boys, including in Cleveland, Ohio where late last year a rookie White cop gunned down 12-year-old Tamir Rice, who was Black. (Photo compliments of Getty Images)

Some 80, 000 people (above) cross the Edmund Pettus Bridge in Selma, Alabama on Sunday, March 8, 2015 to commemorate
the 50th anniversary of the 'Bloody Sunday' voting rights march that occurred on the now historic bridge on Sunday, March 7, 1965. A day before, which was the official day of the 50th anniversary march, President Barack Obama spoke on Civil Rights before leading thousands across the symbolic Edmund Pettus Bridge. (Photo compliments of Getty Images).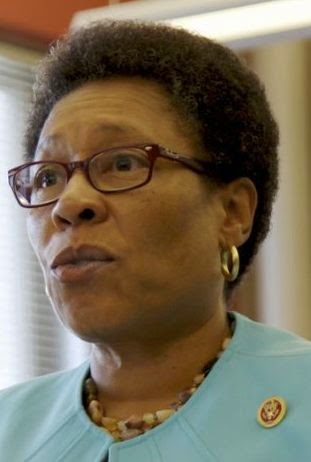 Ohio U.S. Sens Sherrod Brown (D-OH) (wearing red tie) and Rob Portman (R-OH), and Ohio Congressman Marcia L. Fudge (D-OH) were among a host of members of Congress that joined President Barack Obama in Selma, Alabama on Saturday, March 7, 2015 for events to commemorate the 50th anniversary of the 1965 voting rights march there.
By Kathy Wray Coleman
, editor-in-chief, Cleveland Urban News.Com and The Kathy Wray Coleman Online News Blog.com, Ohio's leaders in Black digital

news.
Coleman is a 22-year investigative journalist and political and legal reporter who trained for 17 years at the Call and Post Newspaper in Cleveland, Ohio.
(
www.clevelandurbannews.com
) /
(

www.kathywraycolemanonlinenewsblog.com)
SELMA, Alabama-A day before some 80,000 people gathered on Sunday, March 8 for a 'Bloody Sunday' march across the Edmond Pettus Bridge in Selma, Alabama to commemorate the 50th anniversary of a historic voting rights march there on Sunday March 7, 1965, President Barack Obama gave a historic speech before thousands at the same venue.

Moments after the president's speech on Saturday at the foot of the Edmond Pettus Bridge, the first family and former president George W. Bush and former first lady Laura Bush joined others, including community activists, some of whom were there in 1965, and politicians, to cross the symbolic bridge.(Editor's note: Regardless of the official anniversary date, each year a march is held on a Sunday, usually during the first week of March, to emphasize 'Bloody Sunday,' where voting rights protesters were attacked and beaten by Selma police. This year two anniversary marches were held, a day apart, with the president leading the first one on Saturday, the official date of the 50th anniversary march, and thousands more marching across the Edmund Pettus Bridge on 'Bloody Sunday").
Obama said that voting rights matter, and Black lives matter, and that while some progress on race relations has been accomplished, racism is still alive and well in America.
Cleveland, Ohio, he said, is pivotal in the never ending fight for freedom and equality.
"Citizens in Ferguson and New York and Cleveland just want the same thing young people here marched for, the protection of the law," said Obama, whose speech covered a broad agenda on Civil Rights.
By all accounts the president was referencing racial unrest around high profile police killings of unarmed Black men and boys across the country that have caused ongoing community protests. They include Michael Brown in Ferguson, Missouri, Eric Garner in New York, and the shooting death in November of last year of 12-year-old Tamir Rice by an anxious White rookie Cleveland cop who remains on the job as an investigation around the tragedy continues.

Among other dignitaries and Civil Rights leaders there on Saturday were Ohio U.S. Sens. Sherrod Brown and Rob Portman, Ohio Congresswoman Marcia L. Fudge, the Rev Jesse Jackson, Andrew Young, and Martin Luther King III.

Brown and Fudge, who is Black, are Democrats whose constituents include Cleveland voters.
Portman is a Cincinnati Republican.

U.S. Rep John Lewis, 75, who marched at 25-year-old and was struck in the head by police on Bloody Sunday, also spoke, among few others.
The president said that in order for America to begin to truly internalize the phenomenon
of institutional racism, more people must first admit that it exists.
"We do a disservice to the cause of justice by intimating that bias and discrimination are immutable, or that racial division is inherent to America," said Obama. "
Of course, a more common mistake is to suggest that racism is banished, that the work that drew men and women to Selma is complete, and that whatever racial tensions remain are a consequence of those seeking to play the 'race card' for their own purposes."
The attack by police on marchers in Selma 50 years ago on March 7, 1965 was a prelude to two other marches within a five day period, both of them led by the late Rev Dr. Martin Luther King Jr., and the last one of which thousands crossed the historic Edmond Pettus Bridge untouched.

Months later, in August of 1965, Congress passed the Voting Rights Act of 1965, which is under attack today, from Republican led state legislatures across the country adopting laws to suppress the Black vote, to the U.S. Supreme Court striking down key provisions of the Voting Rights Act.

The Supreme Court, in 2013, struck down the provision of the Voting Rights Act that required Southern states to get federal court approval to adopt or substantively amend state voting rights laws.
Selma, said Obama, "

was part of a broader campaign that spanned generations, and those that crossed the infamous Edmond Pettus Bridge 50 years ago "gave courage to millions."
"Because of what they did, the doors of opportunity swung open not just for African-Americans, but for every American," the president said, in what some political pundits are calling one of his best
speeches
since he took office in 2009. Obama was re-elected to a second four-year term in 2012.
(
www.clevelandurbannews.com
) /
(

www.kathywraycolemanonlinenewsblog.com)